Hey, I thought I'd let you know that I've made some updates to the website and the offline version of the site ebook.
Previously, there were a lot of mistakes on both the website and the ebook, but I've had some time lately to proofread them. I've fixed as many typos and grammatical errors that I could find. I've also improved some of the descriptions, as some of the sentences didn't sound right to me, like on the Donut Chart reference page. On some pages, like on the Line Graph page, I've added some more text to the description.
There have also been some tweaks here and there, such as with the search by functions listings, the buttons on the similar charts sections of the reference pages (many still had the old icons), and a lot of various small improvements across the site.
eBook Updated to v3.2
If you've got an old copy of the ebook, then please login to your account and download the latest version from there. On the My Account page, select the Downloads button on the left-hand side of the page and press the The-Data-Visualisation-Catalogue-OFFLINE-VERSION-v3.2.pdf button to download the latest version.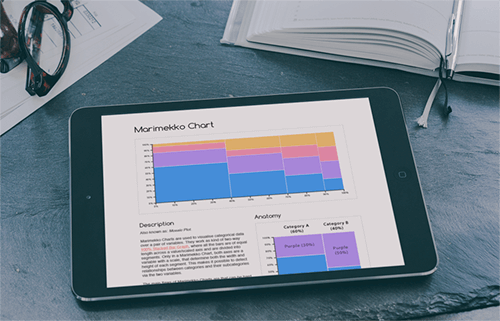 If you're unfamiliar with the ebook, then I'd recommend for you to have a look at it. Especially if you work on the go and continually need access to a data visualization resource because this ebook can be used independently from the internet, while still functioning like a website.
While I say 'ebook', it's actually an interactive PDF. Many up-to-date PDF readers allow for interactivity, which is great because you can now create a kind of local 'website' within a PDF file.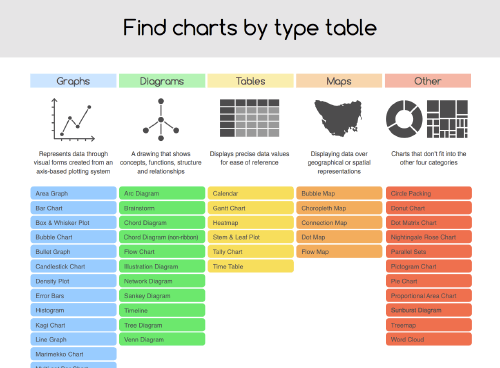 If you download the ebook, you'll find new pages to aid your selection of visualization methods, which are not on the website. These are: Find charts by type (both in icon view and in a table), the Functions Matrix and Find charts by function & type.
There's also no adverts in the file, so you have the same resource as the website, but with less clutter and distractions.