So I made an appearance on the PolicyViz Podcast, hosted by Jon Schwabish to discuss some of the projects I've been working on lately. Listen to episode #102 here.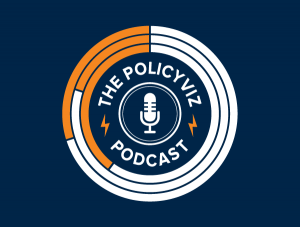 For those who are unfamiliar, Jon is an Economist (M.A. and Ph.D.), as well as a data visualization and presentation skills expert who runs his own podcast, The PolicyViz Podcast. The podcast has just surpassed its 100th episode, with many of the episodes discussing topics such as data visualization, presentation skills, open data, and technology. Jon has interviewed all the big names in dataviz and also has a wide range of other guests who are experts in their respective fields.
Some of you may already know that I've collaborated with Jon over the years on a few projects. The main project being The Graphic Continuum poster, as well the desktop reference card and flashcard set. I also helped with some of the graphics in Jon's book Better Presentations: A Guide for Scholars, Researchers, and Wonks, which I would highly recommend if you're looking to learn about producing and delivering your own presentations. The PolicyViz Podcast logo was also another piece of design I did for Jon.
While some podcasts can go on for hours, the PolicyViz Podcast usually has 20-30 minute long episodes. So you can easily listen to them without it taking up much time out of your day, and you can of course binge-listen through many episodes if you want to quickly catch-up to get up-to-date. Also, they're all free for you to listen to.